Frequented by movie connoisseurs since 1969, Sterling Theatre, for decades, has been the heart of English movie entertainment. A landmark of South Mumbai, Sterling Theatre has catered to a discerning audience for years, with the latest technology of that time. Having created its own history, Sterling Theatre has had a culture of its own that has evolved over time, and now dons a new look as a three-screen Cineplex. Sterling Cineplex will continue to entertain its audiences with the latest blockbusters of Hollywood and Bollywood including the crossover fusion cinema.
Continuing its legacy of screening movies with the state of the art systems, The Sterling Cineplex will now be one of the first in India to introduce THX Certified Cinema, designed to recreate the acoustics and ambiance of the movie studio. With this goal, you find yourself sitting where the director sits – experiencing the onscreen action and the subtle details of the movie's sound effects, score and dialogue exactly as it was produced.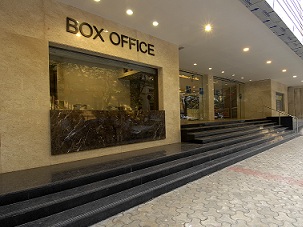 Walk Down Memory Lane
Sterling captured the charm of single movie screening in such a way that the whole experience of movie viewing was appreciated and valued. The first screening at Sterling was Dr. Do-little, a popular musical starring Rex Harrison, and it was an exclusive show, as it was by invitation only. Sterling Theatre was the first to introduce Dolby Surround Sound and Xenon Projection Systems, technologies that enhanced the movie-viewing experience. Its brightly-lit lobby, shining mirrors, sweeping staircases, fragrant coffee and the little popcorn machine glowing in the corner, spilling over generously with butter and caramel popcorn, all constituted the right ingredients for a glittering movie hall experience.
Even in the 1970's and 1980's, Sterling was not only frequented by the people living in South Bombay but also by the people from the suburbs. Sterling was the first to create the matinee show held at 10.30 am, would bring in hoards of students from the surrounding colleges.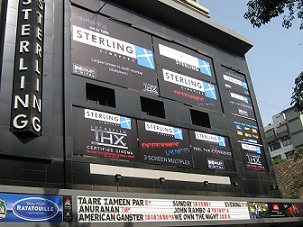 OUR MISSION
The company's mission is to remain Mumbai's most premium & most preferred movie destination. To achieve this we will provide the highest entertainment standards at our theatre.
OUR VISION
The company's vision is to remain Mumbai's premium and most preferred Entertainment destination. Sterling will continue to provide the highest exhibition standards at its cinemas.